Lunch with Joe!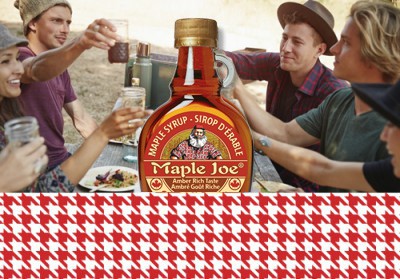 Legend has it that the Native Americans were the first to make maple syrup. An Iroquois chief discovered maple sap when he struck a maple tree with his axe, and his wife collected it in a vessel and used it in her cooking that very evening. Since then, maple syrup has become a prized ingredient in Canadian cookery, for both sweet and savoury dishes. Let the dishes I serve at our sugaring-off parties inspire you too!
A FLAVOURFUL DESSERT: FLAMBÉED BANANAS WITH MAPLE JOE® MAPLE SYRUP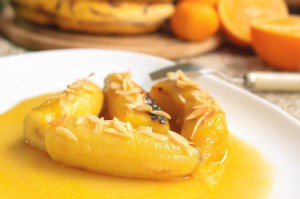 Satisfy your sweet tooth with this dessert that pairs the inimitable flavour of my Maple Joe® maple syrup with fruit. It's wonderful after a day spent in the great 
outdoors!
Ingredients for 4 people:
– 4 firm bananas
– 1⁄4 cup Maple Joe® maple syrup
– 1 tsp. lemon juice
– 1 Tbsp. orange juice
– 1 Tbsp. melted butter
– 1 pinch ground cinnamon
– 2 Tbsp. brandy
Preparation:
1. Peel bananas and place in an oven-proof dish.
2. Combine maple syrup with lemon juice, orange juice, and melted butter.
3. Pour half of this sauce over bananas and sprinkle with cinnamon.
4. Bake at 160°C for 30 minutes, basting regularly with remaining sauce.
5. Douse with brandy and light before serving.
A TRADITIONAL QUEBEC BREAKFAST: PANCAKES WITH MAPLE JOE® MAPLE SYRUP

For a lovely brunch with friends, let my traditional pancake recipe inspire you!
In Canada, we love to smother this traditional food with syrup and enjoy it at a big table full of friends. It's fun and delicious!
Ingredients for 8 people:
– 3 eggs
– 1 envelope baking powder
– 175 g pancake flour
– 2 Tbsp. sugar
– 1 pinch cinnamon
– 50 g butter
– 20 cl milk
– 3 Tbsp. oil
– 1 tsp. salt
Preparation:
1. Beat eggs, then add milk and sugar.
2. Put dry ingredients in a mixing bowl, make a well in the centre, then add egg mixture and stir to combine.
3. Heat a bit of butter in a frying pan and add a ladleful of batter.
4. When bubbles begin to appear on the surface of the pancake, flip it and fry for 1 to 2 minutes longer.
5. Serve warm drizzled with Maple Joe® maple syrup and enjoy!
A SURPRISING & CREATIVE RECIPE: PLANK-GRILLED SALMON WITH MUSTARD & MAPLE
This simple, delicious recipe for plank-grilled salmon explores the surprising combination of my syrup with fish. I first tasted this dish at a sugaring-off party, and I instantly loved its intriguing flavour and the typical woody aromas produced by the grilling method!
Ingredients for 4 people:
– 4 salmon fillets
– 2 Tbsp. Maple Joe® maple syrup
– 2 Tbsp. mustard
– 1 Tbsp. lemon juice
– 4 lemon wedges
– ½ tsp. each salt, pepper, and dill
For plank grilling:
– 1 barbecue grill
– 1 cedar plank
Preparation:
1.  Combine maple syrup, lemon juice, and mustard in a bowl. Season with salt and pepper.
2. Brush salmon fillets with this marinade on both sides, cover, and refrigerate for 30 minutes.
3. After soaking the cedar plank in water, place the fillets skin-side-down on the plank and place it on the grill. Close the cover and grill for 15 minutes.
4. Sprinkle with dill and serve with a lemon wedge. Enjoy!